Is relief in sight? FMC announces investigation into Demurrage, Detention and Per Diem Fees, but what does that mean for shippers?
Written By: ContainerPort Group
Sep 13, 2018 1:05:20 PM
Let's take a deep dive into how the FMC investigation into demurrage and detention practices came to be, and why it all matters.
UPDATE 4/2/18: FMC Issues Information Demands in Detention & Demurrage Investigation
The FMC has begun the first phase of the investigation into demurrage and detention practices, ordering ocean carriers and container terminals to submit documentation explaining their practices, especially when shippers are unable to retrieve their cargo.
"The ultimate resolution of this investigation will have the potential to affect every ocean common carrier calling the United States. It is vital that the information we gather is representative of business and operational practices, as well as market conditions, nationally," said Commissioner Dye.
According to the FMC's News Release, "Commissioner Dye emphasized that it is critical that shippers, dray truck companies, and other affected parties who can document specific allegations and provide supporting materials of unreasonable port detention and demurrage practices and fees step forward and cooperate with the investigation."
"We expect concerned parties to participate robustly in this investigation. Their cooperation is essential," said Commissioner Dye.
If you are a shipper who has experienced issues related to demurrage and detention fees, correspondence, documentation, and other details can be sent to the Commission via email or by mail to the addresses below.
Email: FF28@FMC.Gov
Commissioner Rebecca Dye
Federal Maritime Commission
800 North Capitol Street, Northwest
Washington, District of Columbia 20573
An interim report of findings and recommendations is due no later than September 2, 2018.
A final report will be issued to the Commission for consideration, discussion, and vote no later than December 2, 2018.
The investigation is formally called Fact Finding 28 - Conditions and Practices Relating to Detention, Demurrage, and Free Time in International Oceanborne Commerce, and you can follow the latest developments and read official FMC documents by clicking this link: FF No. 28 Updates.
---
Are demurrage and detention fees "fair"?
No one wants to see unexpected demurrage, detention, or per diem fees on their freight bill. Whether you're importing or exporting, you've probably come across these charges that can bring your cargo to a screeching halt. The fees are typically incurred when cargo stays inside a port too long, or when there is a delay in returning equipment. But "too long" is vague, and the practices by which the fees are applied vary from port to port, making them difficult to plan for and mitigate.
While demurrage and detention fees are meant to keep goods flowing and ensure that equipment is freed up in a timely fashion, shippers, consignees, and drayage providers have contested that there have been times where they were unfairly charged even though the causes for exceeding available free time were out of their control.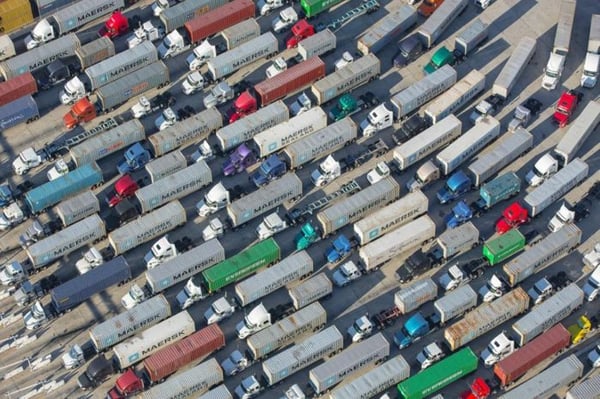 Truck congestion at the Port of Los Angeles-Long Beach.
With port congestion, winter weather, labor and equipment shortages abound, a bit of relief may be in sight as the Federal Maritime Commission (FMC) announced on March 6, 2018 that it has opened an investigation into when and how Vessel Operating Common Carriers (VOCCs) (aka steamship lines) and Marine Terminal Operators (MTOs) (aka ports) assess demurrage, detention, and per diem fees.
The launch of this investigation follows a petition filed in December 2016 at the FMC by the Coalition for Fair Port Practices, which prompted a two-day hearing mid-January 2018 where shippers, ocean transportation intermediaries, ocean carriers, truckers, and MTOs testified about their experiences. But the fairness of these fees has been long debated, stretching back to the US West Coast labor strikes in 2014. Let's take a look at how we got to this important investigation in more detail.
---
Why is it so important that these fees are addressed by the FMC?
To learn about the differences between demurrage and detention, when are they charged, and how can they be avoided, check out this comprehensive guide.
---
Coalition for Fair Port Practices Petition Spurs Change
ContainerPort Group's leadership team is fighting for our customers on the issue of demurrage, detention and per diem fees. Bob Leef, CPG's Senior Vice President – East & Gulf Regions, is representing the Association of Bi-State Motor Carriers as a member of the Coalition for Fair Port Practices, which has played a key role in bringing the situation to the attention of regulators.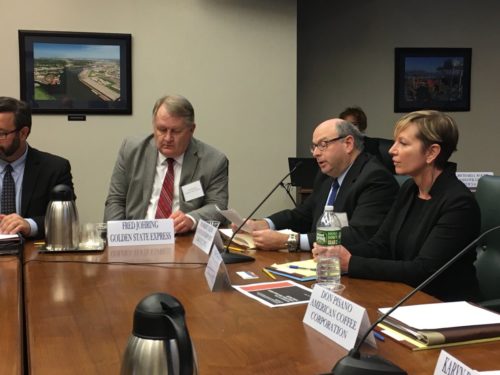 Bob Leef gives testimony in front of the FMC on Jan 16. Credit: TTnews.com
The Coalition for Fair Port Practices is made up of more than 25 entities representing beneficial cargo owners (BCOs), freight forwarders, trucking companies, and trade associations. In December 2016, the coalition filed a petition asking the FMC to set guidelines for when and how demurrage, detention, and per diem fees are assessed.
The coalition alleged that ocean carriers and marine terminal operators have charged fees to trucking companies and BCOs in the past, including during the West Coast port labor strife (2014-15), the Hanjin bankruptcy (2016), and after weather events, like snowstorms and hurricanes, when it was nearly impossible to pick up and return containers due to these situations beyond their control.
"Shippers, consignees and drayage providers do not create and cannot avoid these events," the coalition said. "They cannot control the weather. They do not choose the terminals that carriers use. They are not parties to port labor collective bargaining agreements."
The complaints laid out by cargo interests centered on three areas:
The lack of uniformity, transparency, and consistency related to free time penalties.
The lack of a viable path for shippers and intermediaries, particularly smaller ones, to fight what they consider unfair penalties.
The disconnect between the commercial relationship between cargo interests and the marine terminals.
The goal of the petition was not to eliminate demurrage and detention charges, but to clarify when they are acceptable. For example, when a MTO or VOCC is unable to deliver cargo, how are the fees mitigated? When there is a situation that causes delays beyond the control of the MTO or VOCC (like extreme weather or port congestion), how should they be handled? Are the fees reasonable? Who should be responsible for paying them? How do drayage carriers recover from lost productivity in the aftermath of delays when there is a backlog of deliveries that need to be completed?
As a result of the petition, the FMC held hearings from Jan 16-17, where stakeholders testified about situations in which they were forced to pay exorbitant fees when their containers were inaccessible because of situations beyond their control like weather emergencies, lack of appointment windows within the allotted free time, or federal inspections.
According to the JOC, "Some carriers also accused terminals of using detention and demurrage as revenue generators, rather than a way to spur the timely removal of cargo and return of equipment."
---
Shippers and Truckers Testify Before the FMC
CPG's Bob Leef gave testimony at this hearing, check out his full testimony here.
---
Negotiations are Not Enough, Stakeholders Seek Regulatory Action
The ocean carriers and terminals often suggest that commercial negotiations can address concerns over demurrage, detention, and per diem, rather than seeking federal intervention.
However, ContainerPort Group's Bob Leef said that negotiations don't always solve these problems, "In some cases, the carriers refuse to negotiate. And in the instances where issues are eventually resolved, the business owner has already incurred significant loss of time, resources and efficiency, which translates into lost revenue. This hurts American business and is all the more reason that the FMC should step in and help address unfair demurrage, detention, and per diem practices."
Laura Crowe, senior director of global logistics at Wal-Mart Stores Inc., told the FMC in the hearing, "Once I'm locked into a market, [the terminals] have no reason to negotiate."
"We want to be able to feel more like a partner, so we can have a conversation about it, versus being dictated to that we must pay a fee that we feel is unreasonable," said Crowe, "We budget for demurrage. We know we're going to have to pay some. We just want it to be fair."
Multiple speakers said they weren't asking the FMC to establish strict rules as to the rates carriers could charge and the number of days of free time granted either by port tariffs or within commercial contracts. They instead wanted the FMC to set boundaries for what constitutes unfair business practices.
"The FMC is uniquely positioned to set guidelines and a common understanding of what is fair and what is not fair," said Alex Cherin, representing the California Trucking Association Intermodal Conference. "While a commercial solution may seem appropriate, I can tell you we have tried and tried again. Meetings after meetings, some facilitated by ports themselves, this commission. The core practices of charging fees when inappropriate remains. I remain convinced the FMC is the only entity positioned to referee this issue."
Overall, the FMC's response to the testimony was one of genuine concern and intrigue.
"While many questions remain after the hearing, I do believe it effectively established that the practices surrounding demurrage and detention charges can be out-of-date, confusing, inconsistent, and, in my view, often unfair," said Commissioner Daniel Maffei.
"Various alleged practices were described that – without countervailing or explanatory testimony and evidence – would be troubling from my perspective," said Michael A. Khori, acting FMC chairman. "However, without any filed complaints by cargo stakeholders, where the crucible of adversary proceedings can bring light and transparency to such practices, I supported this investigatory fact finding so as to more fully develop a tested factual record."
FMC Investigation: A Factual Record of Current Port Practices
The investigation seeks to put together a factual record and assess the current state of affairs in the logistics industry. FMC Commissioner Rebecca Dye will lead the investigation, which will run through December 2nd 2018, when a final report of Commissioner Dye's findings and are recommendations are due to the FMC.
The investigation will examine current practices and evaluate five key issues, including:
Does the alignment of commercial, contractual and cargo interests enhance or aggravate the ability of cargo to move efficiently through U.S. ports?
When has the carrier or MTO tendered cargo to the shipper and consignee?
What are the billing practices for invoicing demurrage and detention?
hat are the billing practices with respect to delays caused by events in which there is not an ability to intervene?
What are the practices for resolution of demurrage and detention disputes between carriers and shippers?
"As the Commission considers the Petition of the Fair Port Practices Coalition, my focus is how demurrage and detention approaches can optimize, not diminish, the performance of the American international freight delivery system. Improvements to demurrage and detention business processes may require closer cooperation and information visibility among ocean carriers, marine terminals, and American importers and exporters," said Commissioner Dye of the investigation.
To Regulate or Not to Regulate?
FMC is now left to weigh a tricky question: is the unfair application of detention and demurrage fees the norm in the industry (a revenue stream that often exceeds the cost of the freight rate, as suggested by the petitioning coalition), or are these grievances infrequent and not significant enough of a problem to regulate?
"Is a problem systemic or episodic? Are there places in between that we need to look at? Where do we step in?" said Khouri.
Karyn Booth, a partner at the law firm Thompson Hine, who spoke on behalf of the petitioners asking for FMC intervention, told American Shipper that the breadth of the cargo interests that formed the coalition behind the petition speaks volumes.
"Listening to carriers and terminals, you'd be led to believe that there's no problem," Booth said. "That's simply not the case. You have a petition filed by 26 organizations. It's not one company or one association. There are 100 comments in this record. American companies don't hire D.C. lawyers and take time to come to hearings unless there's a real problem."
"This is a very complex issue that presents difficult choices," Khouri said in a statement. "The question to be resolved is if the Commission, with a judicious hand, can help make things better, though we recognize, we will never be able to solve all the issues associated with the timely handoff of the container from carriers to shippers."
It is the hope of shippers and BCOs alike that something be done to address the controversial issue of unjust demurrage and detention fees. The fact that the FMC is actively listening to and investigating these grievances after many years of silence is a sign of greater things to come.
FMC Petitioners:
The 25 members of the coalition that filed the petition are: the American Apparel & Footwear Association; American Chemistry Council; Association of Bi-State Motor Carriers; Association of Food Industries; Auto Care Association; Foreign Trade Association; Green Coffee Association; Harbor Association of Industry & Commerce; Harbor Trucking Association; Intermodal Motor Carriers Conference of the American Trucking Associations; International Association of Movers; Juice Products Association; Juvenile Products Manufacturers Association; Meat Import Council of America; Motor & Equipment Manufacturers Association; National Customs Brokers & Forwarders Association of America; National Pork Producers Council; National Retail Federation; New York/New Jersey Foreign Freight Forwarders and Brokers Association; North American Meat Institute; Retail Industry Leaders Association; Tea Association of the USA; National Industrial Transportation League; Transportation Intermediaries Association; and U.S. Hide, Skin and Leather Association.