Giving Back: CPG® IC Robert Loew Drives COVID-19 Relief Efforts
Written By: Kellie Lynch
Apr 3, 2020 6:06:07 PM
Delivering kindness: Loew goes the extra mile bringing food to people in need
Today, we're happy to share some positive news: we caught another member of the CPG® Family giving back! ContainerPort Group owner-operator, Robert Loew, has been helping the town of Lebanon Junction, KY with their COVID-19 relief efforts, delivering pallets of donations to food banks in the area.
"We are so proud to have one of CPG®'s finest helping the local relief effort," said CPG Louisville Terminal Manager Laurie Rock, "Robert Loew started with CPG® back in 2004 and is a dedicated driver who is always willing to go the extra mile to lend a helping hand. When the Mayor of Lebanon Junction asked Robert for assistance, he was eager to help!"
We reached out to Loew to thank him for his efforts and learn about what it's like driving during this unprecedented time.
Trucking in his DNA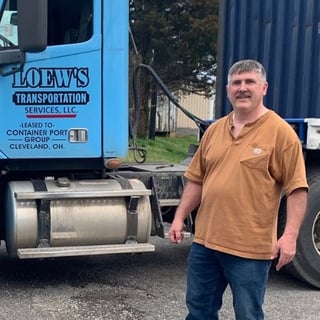 Born and raised in Northern Wisconsin, Robert Loew has been a truck driver for most of his life.
"Trucking runs in my blood. My father was a truck driver. I started out helping him make deliveries to cattle and veal farms when I was younger until I began trucking myself," Loew recalled.

Later, he went on to spend 12 years in the military where he earned a degree in business management. He drove every kind of military vehicle he could get his hands on! When he got out, he worked in an office environment but didn't like it much and jumped back in a truck. He moved to Lebanon Junction, his wife's hometown, and came to work at CPG® Louisville. He has been trucking with us for almost two decades!
Loew has a heart of gold and is always looking for ways to give back to his community. "Its where my hearts at. I try to do as much as I can for everybody," he said, "Even if it goes unnoticed, I'm out there to look out for everybody else, especially in times like these."
Dare to Care: How it Started
When employees at a local Gordon Food Service (GFS) realized they had a surplus of food they couldn't sell due to social distancing measures, they wanted to put it to use. They contacted the city for help.

"They had a lot of product that couldn't be sold because the restaurants are closed. They wanted to do something with it so it wouldn't go to waste and needed help moving it," Loew said. "That's how I got involved. I reached out to Laurie [Rock] and Terry [Gummersheimer] and said 'we gotta do something about this!'"

The groups partnered with the Turnaround Center which connected them with the Dare to Care Food Bank program, an organization that provides food to people in need across Kentucky and Indiana.

"Gordon fixed us up with trailer loads of product to take to the food banks," Loew said.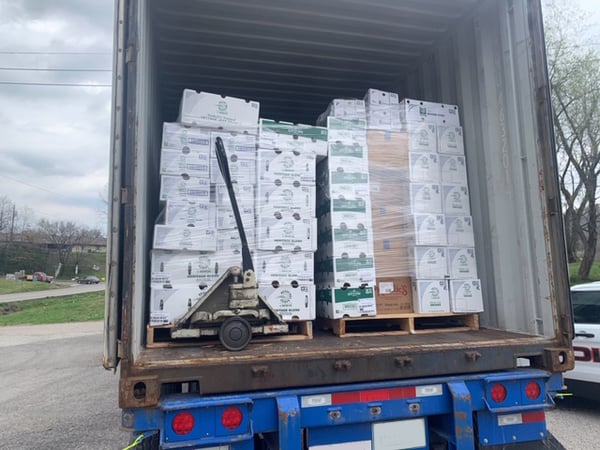 The container Loew pulled, loaded with pallets of food for donation.
Delivering the Goods to People in Need
Loew made his way to the GFS in Shepherdsville, KY to pick up the goods, and delivered them to the Lebanon Junction, KY Food Bank. Ensuring they did not miss out on this generous donation from Gordon Food Service, Loew arrived in style with a local police escort clearing the way.
Loew (right) and a police escort arrive at the food bank with plenty of donations to go around.
"I picked the load up on Friday and we handed out food all day on Saturday, from noon up until to 6 PM. People were very thankful. We went back on Monday and picked up 20 more skids that were disbursed on Wednesday. In total, 537 families have been fed so far," he shared.
Loew's wife of 35 years and his daughter have been helping him with the donations — getting the food off of the trailer and handing it out. Both healthcare workers, Loew's wife has worked at a local Children's Hospital for over 20 years, and his daughter is an EMT. Their family is on the front lines and is a driving force in their community during this time.
Loew said they plan to continue assisting food banks throughout the crisis, "This isn't just a one-time deal — We're continuing to give back as much as we can until this thing goes away."
When asked if he had any other donation projects in mind, he replied, "I thought about if they [GFS] have any more excess food, maybe we could bring it back and disburse it to other truck drivers. Its tough out there right now."
Truck Drivers: Keeping America Moving Through a Pandemic
Truck drivers continue to keep America moving throughout the pandemic, hauling essential goods and supplies. However, with many restaurants and businesses closed, it can be difficult for drivers to find a hot meal on the road.
Loew's advice to other drivers: "Make sure you pack food for during the day, lots of electrolytes, soda, water, snacks, everything. Pack enough to last the whole day, even a little extra. Places everywhere are closed and a lot won't serve drivers. Also, keep in mind the social distancing — you don't want to be stopping off at a bunch at stores every time you need a drink. Each time you go in, you're putting yourself at risk. Try to keep in your truck as much as possible."
We asked Loew what he thinks is the hardest part about driving during the COVID-19 pandemic. For him, it's not being able to get out and talk to people.
"I'm a people person, so the hardest part is not being able to communicate with people physically. Almost everything right now is over the phone or text," Loew explained, "I don't know a stranger, that's what my wife says. I get along with everybody. Talking to people helps me relax a bit and unwind, and it's harder to do that now with the social distancing."
One silver lining though, is how little traffic is on the road because people are staying home.
"Now, the time frame is a lot less strenuous because traffic ain't as heavy. I can get from Point A to Point B a lot faster," Loew said. "I enjoy my job and driving trucks. Surprisingly, there's not too much stress for me at the moment. The freight seems pretty steady, so I'm not worried too much about making ends meet or putting food on my table for now."
Take This Seriously, Stay at Home
Loew urged people not in the industry to stay at home as much as possible. He stressed how important it was to take this seriously and to realize that this is only temporary.
"In time, everything will pass and we will heal. Take the time you have available and spend it with the family you have next to you. Stay at home. Take things seriously. If you got kids that are wanting to go out, take them in and explain what's going on to them. Show them the numbers. Explain why it's important to stay at home and keep them there, no matter how bad they want to go out. As soon as everyone starts doing that, the numbers will start decreasing. I hope everybody takes it seriously and stays at home so we can get this over with quickly."
Thank you again, Robert, for all your years of service and for keeping America moving during this health crisis. We appreciate the work you're doing and your efforts do not go unnoticed. You're a hero in this industry and we are grateful to be your partner.
If you are a truck driver who is participating in COVID-19 relief efforts and want to share your story, please send us an email at marketing@containerport.com — we'd love to hear from you!
For more information about driving for CPG®, visit www.drive4cpg.com or email cpgrecruiting@containerport.com to speak to a recruiter.
Need a truck to move your freight? Contact quote@containerport.com or call 440-333-1330.
To make a donation to Dare to Care Food Bank, visit daretocare.org.