Shipping containers as innovative solutions in the fight against COVID-19
Written By: ContainerPort Group
Apr 2, 2020 10:47:11 PM
Utilizing shipping containers for commercial, industrial and residential projects is familiar territory for us. We've had the opportunity to work on a lot of innovative projects, and we've seen containers used for school buildings in other countries, food trucks, backyard workshops, even swimming pools!
And now, in times of crisis, we are seeing them serve a lifesaving purpose. With hospitals running out of space to treat patients with COVID-19, organizations are turning to repurposed shipping containers to provide innovative solutions for the space shortage in hospitals and for disinfecting Personal Protective Equipment (PPE) in contained spaces.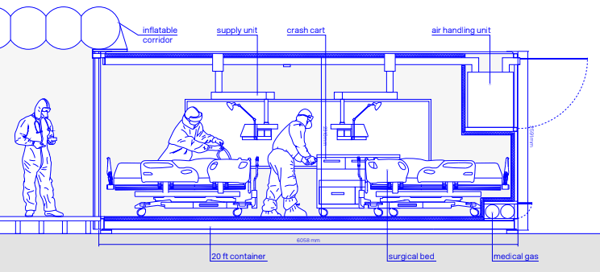 Image credit: https://curapods.org/
In Italy, CURA, is a task-force that created an open-source design template that was designed to quickly modify shipping containers into emergency ICU's to respond to the country's growing need for more hospital beds. Stateside, Detroit-based cargo architecture firm Three-Squared is working on a solution to solve hospital space shortage in hard hit areas of the nation. Most recently, we've seen a makeshift field hospital erected in Central Park in New York City. The field hospital, which currently is a grouping of tents, is to serve the overflow of Mount Sinai hospital. As more cases of COVID-19 are identified in the country, we will see an even greater need for additional hospital beds. Shipping containers provide a stable structure that can be modified to fit a hospital's needs and withstand the elements.
It is inspiring to see so many industries come together to think of solutions on how to utilize shipping containers to save lives during this health crisis. The ingenuity of the human spirit cannot be beat, and our container sales team is here to help. Scott Grahl, our Regional Director of CY Operations, said "We are providing a discount on container sales to Military, Police, Fire, First Responders and Veterans. ContainerPort Group stands ready to give priority to innovative solutions to help with the current crisis."
If your hospital or organization needs containers, or if you are a contractor working with a hospital or agency or know someone we should meet, please call us at 1-844-727-4269. Our staff and skilled modifications team are here to help.